What is Hippotherapy?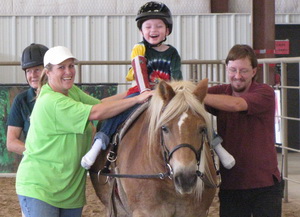 The term, hippotherapy, refers to how occupational therapy, physical therapy, and speech-language pathology professionals use evidence-based practice and clinical reasoning in the purposeful manipulation of equine movement to engage sensory, neuromotor, and cognitive systems to achieve functional outcomes. In conjunction with the affordances of the equine environment and other treatment strategies, hippotherapy is part of a patient's integrated plan of care.
For best practice, the therapist must be knowledgeable about equines and their movement, as well as how to incorporate equine movement into treatment.
Why Become Certified?
The American Hippotherapy Certification Board (AHCB) endorses the concept of voluntary, periodic certification by examination for all professionals who use hippotherapy in their practice. Professionals who work (or have worked) in the clinical specialty of hippotherapy and meet the eligibility requirements are eligible to take this examination.
Certification is one part of a process called credentialing. It focuses specifically on the individual and is an indication of current knowledge in a specialized area of practice. (However, AHCB does not warrant the performance of any individual certificant.) Board certification in hippotherapy is highly valued and provides formal recognition of a high level of knowledge in the clinical specialty.
Currently, there are two separate exams:
Read a side-by-side comparison of the two exams and a brief history of their inception.
---
"The AHCB Credentialing Exam Process – Demystified"
---
Purposes of Certification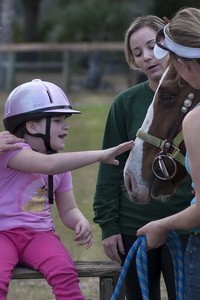 To promote delivery of safe and effective treatment which incorporates hippotherapy through the certification of qualified therapists, therapist assistants, and clinical specialists by:
Recognizing formally those individuals who meet eligibility requirements of the American Hippotherapy Certification Board and pass either the Hippotherapy Certification Examination or the Hippotherapy Clinical Specialist® Certification Examination.
Encouraging continued professional growth in the use of hippotherapy within professional practice.
Establishing and measuring the level of knowledge required for certification in hippotherapy.
Providing a standard of knowledge requisite for certification, thereby assisting the employer, public, and members of the health professions in the identification of therapists certified in hippotherapy or the Hippotherapy Clinical Specialist®.