Hippotherapy Clinical Specialist Exam
Winter 2024 Testing
Application Deadline: January 17, 2024
First Day of Testing: Saturday, February 3, 2024
Last Day of Testing: Saturday, February 17, 2024
Summer 2024 Testing
PLEASE NOTE: There will be NO Summer 2024 HPCS Exam. The next scheduled exam will be February, 2025. For the foreseeable future, this exam will only be offered one time per year.
Application and Fees
AHA Inc. Members: $450.00
Non-AHA Inc. Members: $550.00
Click to apply online
Update on the Coronavirus Outbreak
Refer to the Professional Testing Corporation website for current COVID protocols.
What Content is Covered?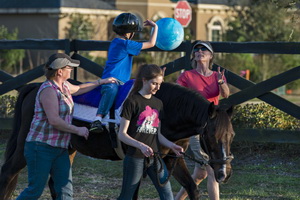 The Hippotherapy Clinical Specialist® Certification Examination is a computer-based examination composed of a maximum of 250 multiple-choice, objective questions with a total testing time of four (4) hours. Questions will be in the following areas:
History / Theory / Research
Horsemanship
Movement Science
Application of Hippotherapy Principles
Program Administration
Eligibility Requirements
1. Candidates must meet all of the following eligibility requirements:
The candidate must be currently licensed or certified to practice as a physical therapist, occupational therapist, or speech and language pathologist in the US or the equivalent in other countries.
The candidate must have at least three years of full time or the equivalent (6,000 hours) experience in the practice of physical therapy, occupational therapy, or speech and language pathology.
The candidate must have a minimum of 100 hours of one-on-one direct treatment in clinical practice using hippotherapy within the three years prior to certification application deadline. *Please note that treatment experience that is part of an educational course or mentoring process does not qualify for this requirement.
The candidate must be experienced and comfortable with horses and have independent, skilled riding ability.
2. Agree to abide by the AHCB Testing Agreement.
3. Completion and filling of an Application for the Hippotherapy Clinical Specialist® Certification Examination.
4. Payment of required fee.
Examination Process
The Certification Examination is administered during an established two-week testing period on a daily basis, Monday through Saturday, excluding holidays, at computer-based testing facilities managed by PSI. PSI has several hundred testing facilities in the United States, as well as Canada. Scheduling is done on a first-come, first-serve basis.
To find a testing center near you, visit www.ptcny.com/cbt/sites.htm or call 1-800-733-9267.
Please note: Hours and days of availability vary at different centers. To schedule your examination appointment, you must have received an Eligibility Notice in advance from PTC.
Candidate Handbook and Application
Visit https://ptcny.com/test-sponsors/ahcb/ to obtain the detailed exam content outline in our Candidate Handbook and access the online application.
For more information, Contact:
Professional Testing Corporation
1350 Broadway, Suite 800
New York, NY 10018
Phone: 212-356-0660
Fax: 212-356-0678
www.ptcny.com
Contact Information
If you have questions regarding certification, please contact Jann Goodman, bldrmoun@aol.com.
If you have any general questions, please contact Carol Huegel, hippopt@aol.com or Celia Bower, Celia_Bower@yahoo.com.