About
The American Hippotherapy Certification Board (AHCB) serves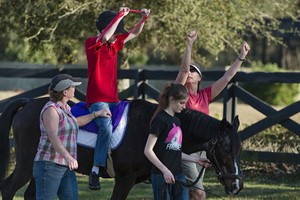 as the certifying body of the American Hippotherapy Association (AHA) and works hand-in hand to achieve its mission:
Improve lives by advancing education, best practices and resources for licensed healthcare professionals who incorporate horses in therapy.
Professionalism and integrity within the practice area of hippotherapy remain the driving force of the AHCB since its inception in 1998, when it was formed by members of the AHA board. Its purpose then, as it is now, was to develop and maintain a method to validate the therapist's knowledge through an objective testing tool.  The AHCB works collaboratively with the Professional Testing Corporation® (PTC) who administers the exams biannually.
It is the on-going commitment of the AHCB to provide candidates for both the Hippotherapy Certification and Hippotherapy Clinical Specialist exams the most accurate, relevant, and up-to-date measurement tool possible in the course of the validation processes.  This is achieved by the AHCB which is comprised of members representing the professions of occupational therapy, physical therapy, and speech therapy.  Each voluntary member of the board has attained their HPCS and has demonstrated on-going competency in the field.  The AHCB works tirelessly with the Professional Testing Corporation of New York, to ensure the validity, fairness, and accuracy of all questions put forth on the examinations.
---
Related Links